Since 1979, collaboration and innovation have been in UNIMAC's DNA. It's why it has been in business for over 40 years, with the company believing that these values are the cornerstone characteristics to a great project and a successful relationship with its clients.
Initially established as a road contracting business, UNIMAC has continually expanded its operations to become the fully vertically integrated company it is today, with a broad range of operations and facilities that include:
Three rock aggregate crusher locations with six operational crusher assemblies
Six asphalt plants
Over 700 pieces of equipment
A full-time staff of more than 900 personnel
Experienced material engineers capable of developing various asphalt mix designs, ranging from standard Marshal specifications to the more complex PMA used for racetracks
In-house engineering design department
In-house laboratories to ensure that projects meet specifications and adhere to UNIMAX's strict quality standards
A transportation division with a fleet of more than 150 medium to heavy vehicles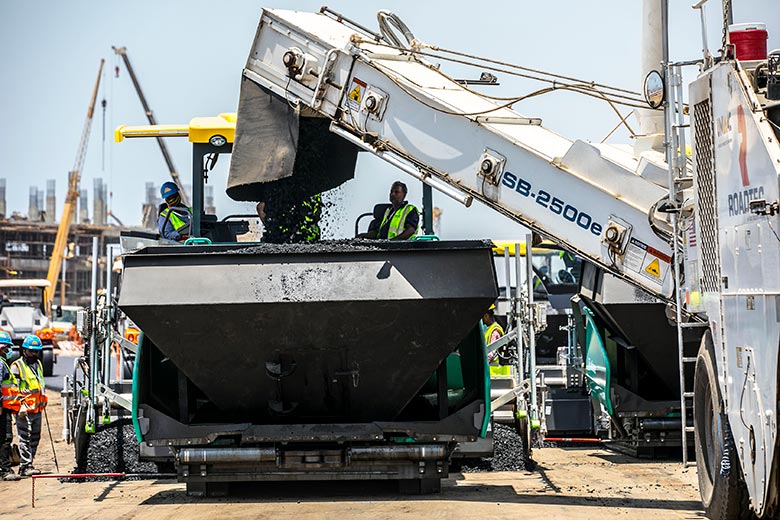 The company's construction division is among the best in the Kingdom in terms of quality and workmanship. And from project design to completion, UNIMAC engineering and contracting teams provide full support and attention to detail. Its total product lifecycle approach lets clients rest easy knowing that they've got it covered. Having all divisions and activities under one roof has become central to the company's success.
---
Having all divisions and activities under one roof has become central to the company's success
---
The Five M's
UNIMAC's general business philosophy is based on the five M's of construction: Manpower, Machinery, Materials, Management, and Money. The importance of this philosophy is reflected in the large letter M of UNIMAC's logo. Any construction project's success will hinge on the efficient and effective application of all five M's simultaneously. If any of the five M's are neglected, the project's performance will suffer, potentially resulting in project delays, poor quality, and financial losses. While some companies regard Method to be the sixth M, UNIMAC considers it one of the components of management.
Where Quality Workmanship is a Racing Certainty
UNIMAC is currently active on the Jeddah Corniche Circuit project. Its scope of works as the main contractor includes the full transformation of the roadway into a high-tech racetrack capable of hosting the most prestigious motorsport races in the world. Achieving this required the complete demolition of the existing corniche, excavation of and replacement of unsuitable material, levelling and stabilization of the soil, asphalting the track, building retaining walls, installing a high-tech storm drainage system as well as sewage, potable water, and firefighting networks. The company's most recent contract award is for the construction of the low voltage and medium voltage electrical network.
Also, at present, UNIMAC is working on several other important and prestigious projects, including the Riyadh Metro corridors, the KKIA airport's security roads, and the construction and upgrading of East Riyadh's road network. As part of the East Riyadh Rehabilitation, UNIMAC has built and upgraded more than 250 roads. It expects to finalize this project in Q3 2021.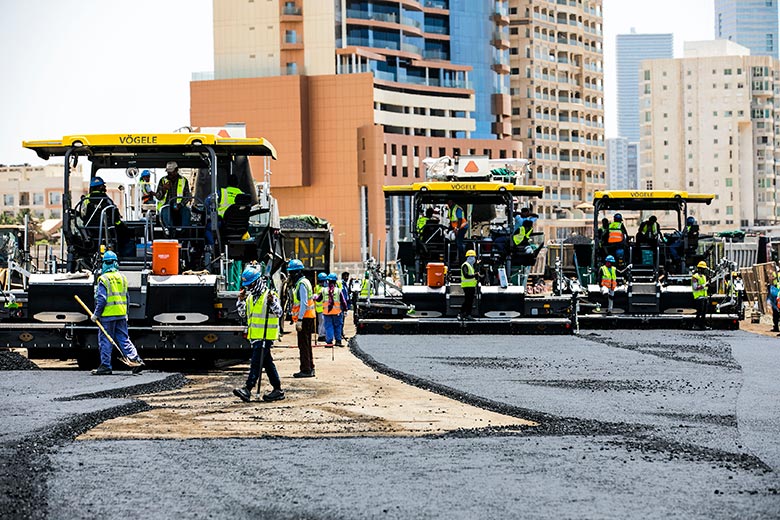 A Tradition of Excellence
UNIMAC is genuinely proud of every project it has worked on. However, if there is one project that stands out from the rest, it is the Al Rayn – Bisha Highway (Muzahmia section). This consisted of moving 16 million cubic meters of sand to build a highway in the middle of the desert, in addition to building a bridge across one of the busiest highways in the country – the Riyadh-Mecca Highway.
---
UNIMAC's general business philosophy is based on the five M's of construction: Manpower, Machinery, Materials, Management, and Money
---
However, it is admittedly challenging to single out specific projects, with UNIMAC successfully completing so many, including a number of airports and airbase infrastructure projects. These range from the King Khalid International Airport to the PSAB in Al Kharj. The company has been building airfields for several decades, and UNIMAC's previous logo consisted of a runway.
UNIMAC was also one of the main contractors of the Ad Diriyah Formula E circuit, one of its proudest accomplishments. This was the first professional racetrack to be built in Saudi Arabia.
UNIMAC was proudly contracted for the project construction and subsequent upgrade two years in a row for the 2018 and 2019 races. This project sparked the formation of UNIMAC's Special Projects Division, which is led by a highly qualified team of men and women who specialize in building complex high-level rush projects that must be finished to a tight timeline and in challenging environments.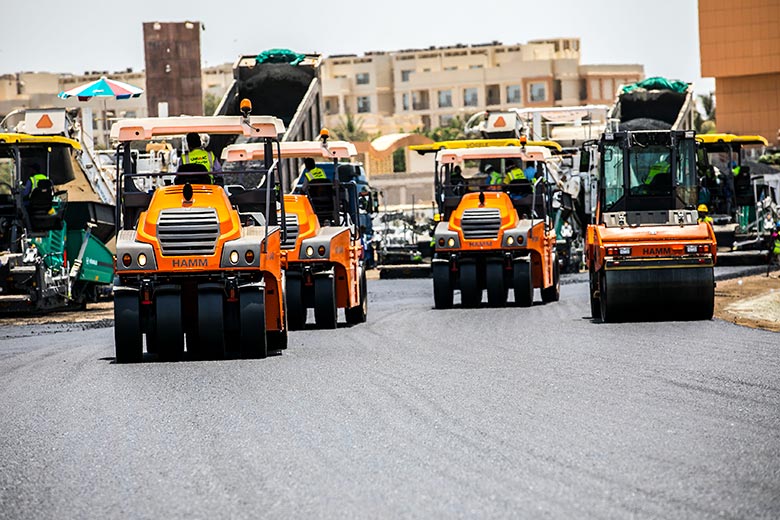 Caring for the Environment
The vertically integrated structure of UNIMAC and its highly motivated and talented workforce of men and women set it apart from its competitors. The company's team has never compromised on quality and will never do so, managing each project individually in line with a robust code of ethics. This code includes sustainability and the environment. UNIMAC's Environmental Division oversees compliance monitoring in accordance with the National Center for Environmental Compliance-Minister of Environment, Water, and Agriculture (NCEC-MEWA) regulations to ensure that construction activities are carried out following all NCEC-MEWA regulations. UNIMAC's Environmental Division responsibilities include inspecting machinery and vehicle exhaust emissions, monitoring noise pollution and vibration, such as relevant locations for human sensitive receptors, and assessing and quantifying potential environmental hazards due to construction activities.
The company's current project, for instance, the Jeddah Corniche Circuit (JCC), runs along the shores of the Red Sea and one Corniche lagoon. To ensure water preservation and safety, UNIMAC has commenced water sampling as aligned with SACO standards. Additionally, the Environmental Division closely inspects soil and groundwater, including monitoring for evidence of chemical spillage and acidic soils and overseeing sewage containment. UNIMAC also aim to implement permanent protections to preserve the Red Sea shoreline along the JCC. Moreover, the company plan to conduct environmental awareness training with all staff.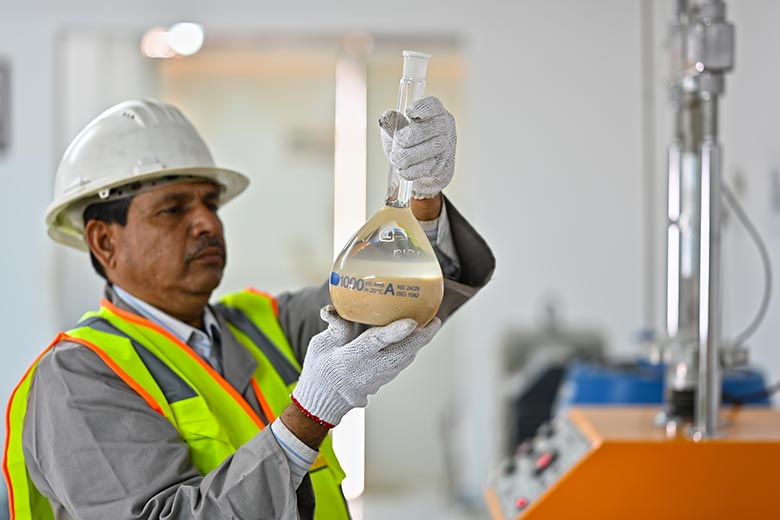 ---
As part of the East Riyadh Rehabilitation, UNIMAC has built and upgraded more than 250 roads
---
Required training will cover fuel storage, waste management, air emissions management, noise and traffic management, and management of wildlife habitats within the site. All site staff, workers (including sub-contractors), and site visitors will receive training. UNIMAC will not allow these parties to perform duties on site until they have complete training.
Finally, UNIMAC will prioritize monitoring all described activities to verify and confirm that full compliance with environmental regulations and standards is achieved and, in the event that any violations are observed, these are immediately addressed.
Women in Construction
UNIMAC is proud to be at the forefront of the 'women in construction' movement in Saudi Arabia and recognize the value of hiring a dedicated and talented workforce, regardless of gender. As a result, female employees currently make up an essential and valuable component of all UNIMAC departments. To best support its female employees, the company strives to create a supportive workforce that allows all employees to reach their highest potential. This has proven to be a huge success due to the incredible passion, effort, and performance of these women.
Fresh Concepts, New Divisions
More than a construction company, UNIMAC is in the business of servicing its clients to ensure they receive a unique and exceptional experience. It excels, for example, at communicating effectively with clients to address the issues they confront daily, such as cost and result optimization, schedule modifications, variation orders, and so on. UNIMAC has the ability to execute projects at an expedited schedule while still delivering quality results.
UNIMAC has also enhanced its flexibility to transfer resources on-demand to keep up with the industry's rapid expansion.
---
UNIMAC has also enhanced its flexibility to transfer resources on-demand to keep up with the industry's rapid expansion
---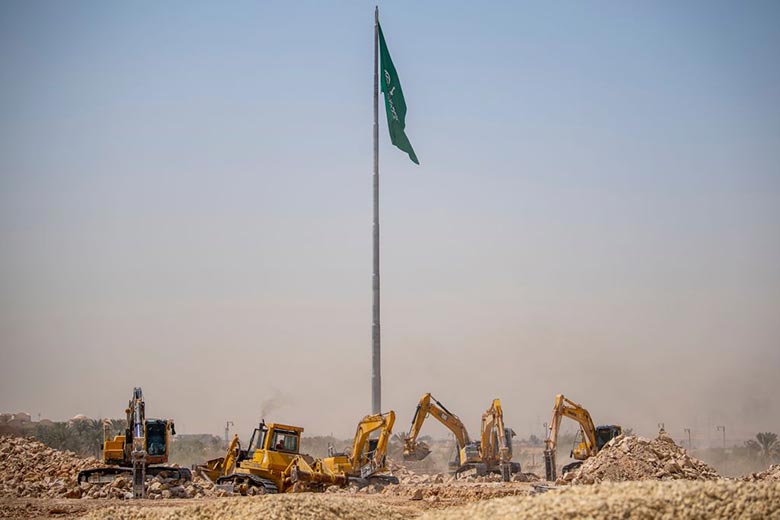 This allows it to adapt its engineering and design services to match clients' needs while maintaining uninterrupted subcontractor workflows.
This enlightened approach to business has ensured that there is plenty of opportunity for growth.Saudi Arabia is putting a strong emphasis on environmental improvement. As a result of this demand, UNIMAC has recently established an Environmental Division, which assesses how construction impacts the environment and analyses ways to enhance the environment both during and after construction. To ensure the division's success, the company is collaborating closely with government agencies.
Moreover, Saudi Arabia is committed to improving road safety, which provides an opportunity for private sector participation. With this in mind, UNIMAC is establishing a Road Safety division to assist this program and will be working closely with the government to discover solutions and improve safety on the Kingdom's network of roads and highways.
The company is also interested in expanding its activities related to motorsports. Not only would it like to grow its portfolio of racetracks, but it is also interested in getting into the Operations and Maintenance of motorsport facilities.
For Safety's Sake
Protecting its workforce and subcontractors from the Covid-19 infection is of the highest priority during this unprecedented pandemic. That is why UNIMAC conducts PCR tests on all employees three times a week and enforce masks in the office and on-site. The company has also ensured that all employees are vaccinated, from administrative staff to construction workers and laborers. Due to constant outdoor construction work, construction workers and management are organized into smaller groups to limit the potential transmission of the virus. In accordance with the Ministry of Health, UNIMAC's health and safety staff oversee and ensure that staff comply with all Covid-19 safety measures.
A Bright and Busy Future!
The next 5 to 10 years will be very busy and exciting, as Vision 2030 continues to be implemented within the Kingdom. UNIMAC is committed to the construction of infrastructure under the planning stage by the Kingdom to accommodate a very fast-growing young population. Its strategy is not to only build high-quality infrastructure but also to provide solutions that result in low operating and maintenance costs throughout the years using the newest technologies and techniques. This will provide a significant opportunity to UNIMAC's Special Projects Division and foster growth in other newly formed divisions within UNIMAC.