With scientists worldwide warning of significant increases in global temperatures, industry experts from CallisonRTKL (CRTKL), the global architecture, planning, and design firm, have revealed key lessons from the Middle East and North Africa region that can embolden global communities to design for life in extreme weather.
The findings come following the publication of the report of the United Nations Intergovernmental Panel on Climate Change (IPCC), detailing the scope of current climate change and outlining expectations of how human life may change should greenhouse gas emissions continue to climb. Climate-related disasters have increased by 83% globally[i] in the past 20 years, and several bodies[ii] forecast that global warming will lead to exponential increases in extreme weather events.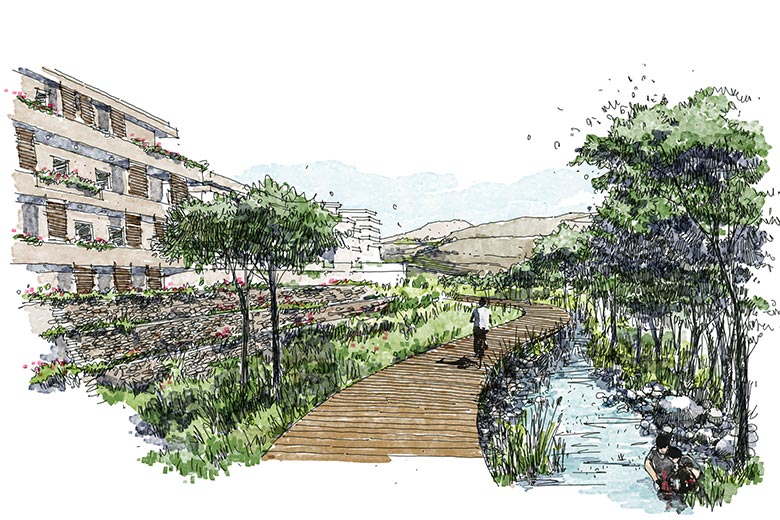 The advice, which centres on designing around geographical features, microclimate manipulation, introduction of water and wind cooling, and designing for mixed-use, walkable urban areas, indicate how architects and designers can draw on examples from the MENA region to create net-zero solutions for severe climates.
---
Climate-related disasters have increased by 83% globally[i] in the past 20 years
---
Matthew Tribe, Principal at CRTKL and Global Head of its Resiliency Initiative, commented: "The residents of the MENA region have been living with extreme climate conditions for millennia. As the world embraces environmentally-focused design that enables life in hot weather, the modern adaptation of the age-old practices found here will become increasingly critical in global design and architecture.
"CallisonRTKL champions the identification and integration of climate-specific sustainable design. Our launch of ClimateScout, earlier in 2021, showcased how our firm is delivering architects and designers from around the globe with free-to-access advisory services which foster sustainable living. These suggested themes augment our extensive worldwide work in providing sustainable solutions for modern-day life."
Five ways to enable sustainable living in extreme weather:
Heading for the wadi
The popular misconception of Arabian topography is a picture of an endless, flat desert. However, those living in the region understand that this could not be further from the truth. In fact, residents of the Middle East have long since used the region's topography to survive its harsh environment, building settlements in wadis, or valleys, providing a cooler environment and offer some reprieve from scorching summer temperatures.
Now, architects are returning to the wadi. Their lower temperatures and higher vegetation levels make them easier to keep naturally cool. Similarly, in Europe and the Americas, geographical features such as valleys, craters, caves, forests, dams, slopes and Cold Air Pools (CAP) can deliver the same benefits to urban planners looking to keep cities cool. Notable examples of the CAP effect are Gstettneralm Sinkhole in Austria, where the lowest recorded temperature is −53 °C (−63 °F), as well as Peter Sinks in Utah in the United States of America.
---
Researchers predict that conventional air conditioning will produce two billion tonnes of CO2 per year by 2050.[i]
---
Paying attention to the microclimate
Traditional Middle Eastern architecture is focused on microclimate. Since ancient times, designers in the Middle East have centred buildings around a courtyard. While offering many advantages – privacy, security, and shelter – one of the key by-products of a courtyard is a deliciously cool microclimate to escape high temperatures.
One of the modern designers' sustained focuses is understanding how to manipulate microclimates to create liveable outdoor space. The introduction of shaded areas, optimised building uses, and the planting of climate-appropriate vegetation all contribute to making outdoor spaces more suitable for human habitation.
Microclimates have become critical for design in modern, global cities. From San Francisco to Sydney, Istanbul to Hawaii, architects and public planners must factor in varying microclimates to enable modern living. Cities themselves often generate their own microclimates, with London being on average five degrees hotter in the summer than the city's surrounding countryside.[iii] In a warming world, understanding how to integrate microclimate into modern building design will be critical for low-carbon solutions to keeping cool.
Digging deep to keep cool
The traditional Middle Eastern courtyard will often contain an ornate and beautiful fountain. The use of water in the cooling process is nothing new to the region. Ancient Egyptian murals have found evidence of using water to cool internal space since 2,500 BCE. Regional residents would create underground water channels, or qanats, from which naturally cooled air could flow into rooms. This ancient cooling method has found relevance in enabling sustainable design.
Researchers predict that conventional air conditioning will produce two billion tonnes of CO2 per year by 2050.[iv]Thus, developing alternative cooling methods will be imperative for a more sustainable world. That is why many contemporary designers are returning to the concept of the qanat. Studies are exploring how, combined with the use of pumps and sprinklers, humans could cool space without depending on air conditioning. Regional findings are proving the qanat's benefits, with modern systems demonstrating a cooling effectiveness of over 100%.[v]
Harnessing the power of wind
They are one of the Middle East's most recognisable traditional architectural designs. The Barjeel or malqaf, otherwise known as a wind-catcher, has been an architectural feature in some form for 3,000 years. Their distinctive style and emission-free cooling have already caught the eyes of designers worldwide, with buildings such as the Royal Chelsea Hospital in London sporting the Middle East's iconic cooling structures.
Part of the ancient innovation of wind catchers is their integration with other cooling systems. Qanats typically work in tandem with wind towers, using both the elemental powers of wind and water to cool indoor space effectively. Through efficient combination with geographical features and with microclimates, the Middle East's traditional structures have a permanent place in a warmer world.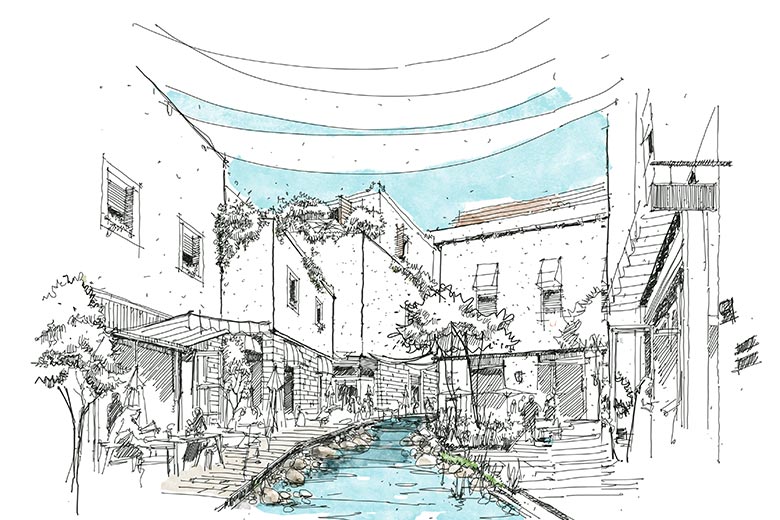 ---
Regional findings are proving the qanat's benefits, with modern systems demonstrating a cooling effectiveness of over 100%.[iii]
---
[i]Ahmadi et al (2021)
The Moroccan medina was the ancient precursor to the 15-minute city. Designed long before the combustion engine, these historic urban areas were meant to be walked. From mosques to bazaars, schools, and homes, the community's needs were all self-contained within the medina's walls. For those venturing outside in the noon-day sun, the tight and narrow pathways offered cool shade and carefully managed microclimates, with all that you needed only a few minutes' walk away.
For the modern urban planner looking to reduce motor vehicle dependency and make daily life in high temperatures more manageable, the medina presents an attractive inspiration. Though this highly condensed lifestyle may not be for everyone, it does offer a blueprint for hotter urban environments. There are two key considerations – first, how can modern communities have all the amenities they require within a relatively short walking distance? Second, how can pathways enable and encourage walking across urban centres in hot conditions? Modern designers can draw significant inspiration from their ancient Moroccan colleagues.
CallisonRTKL provides consultancy on enabling environmentally focused design and architecture to clients across the Middle East and global markets. Earlier this year, the firm launched ClimateScout, its open-source platform that allows anyone, anywhere, to freely access localised climate-specific design advice for buildings and public space.
---
[ii]Carbon Brief (2021); Center for Climate and Energy Solutions (2020); European Academies' Science Advisory Council, Leopoldina – Nationale Akademie der Wissenschaften (2018)