Marriott Executive Apartments, part of Marriott Bonvoy's portfolio of 30 extraordinary brands, announces the opening of Marriott Executive Apartments Al Khobar. Located within close proximity to the city's premier shopping malls and business district, the upscale residential apartments cater to the rapidly growing demand for longer stay accommodations that offer home comforts for both business and leisure travelers.
Commenting on behalf of the owning company of Marriott Executive Apartments Al Khobar, Sheikh Mohammed Bin Jumah, Chairman, Mansour bin Jumah Holding said: "We are delighted to introduce these elevated serviced apartments which will cater to travelers who seek short and long stay accommodation in a central city location. Suitable for a business trip, city escape or family holiday, Marriott Executive Apartments Al Khobar will embrace new ways of living, offering travelers premium accommodation and comfort, combined with world-class service. We are also proud to contribute to the Kingdom's thriving tourism sector and support Vision 2030."
Ahmed Hozaien, Area Vice President – Saudi Arabia, Bahrain and Egypt at Marriott International said: "We are delighted to enhance our footprint in Saudi Arabia with the opening of Marriott Executive Apartments in the vibrant city of Al Khobar. This opening offers the ideal fit for business and leisure guests who seek a sophisticated experience with amenities and services that mirror the comforts of home."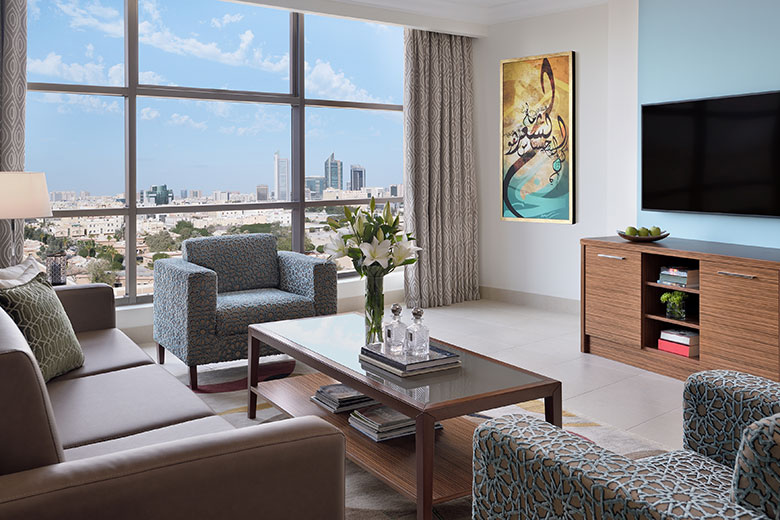 ---
Marriott Executive Apartments Al Khobar brings sophisticated longer stays to Saudi Arabia's Gulf coast
---
Marriott Executive Apartments Al Khobar features 268 modern residential apartments. The spacious one, two and three-bedroom apartments offer separate living, sleeping, and working areas so guests can enjoy a home from home experience during their stay. The property embodies the notion of sophisticated living combined with modern comforts, fulfilling its commitment to providing a full range of accommodations with the highest quality service standards.
Guests can experience a variety of culinary options at the all-day dining restaurant, which is a meeting point for personal and professional get-togethers, with a bright, modern and cozy ambience. The casual, urban venue offers a delicious range of breakfast, lunch and dinner menus. Guests also have the option to cook for themselves, with all apartments featuring a fully equipped kitchen, complete with a refrigerator, oven, microwave, dishwasher, coffee machine and cookware.
Marriott Executive Apartments Al Khobar features an array of wellness facilities for men and women. The dedicated space includes a state-of-the-art gym, a spa with six treatment rooms, each providing a variety of services to revitalize and rejuvenate the mind and soul, an indoor pool, and a female beauty salon.
Catering to the needs of business professionals, Marriott Executive Apartments Al Khobar also offers an executive lounge with access to business facilities as well as a dedicated conference center with six meeting rooms.