Plans for a $1 trillion, 75-mile-long structure made of mirrored glass that will stretch across the desert and stand taller than the Empire State Building have been revealed. It will be so long that it will be supported by struts to account for the curvature of the Earth, and a high-speed train line will run beneath it.
Located in NEOM, a futuristic city being built in the Tabuk Province of north-western Saudi Arabia, The Mirror Line will consist of two 1,600 feet tall buildings that run parallel to each other across 75 miles of desert, coastal, and mountain landscapes. When fully completed, the 'sidescraper' will run from the Gulf of Aqaba, through a mountain range, and then extend along the coast into a desert 'aerotropolis'. It is intended to house a million residents who will have the ability to travel end-to-end within 20 minutes. The Mirror Line will also feature a sports stadium that is set to be 1,000 feet above the ground. The whole project will be powered by renewable energy.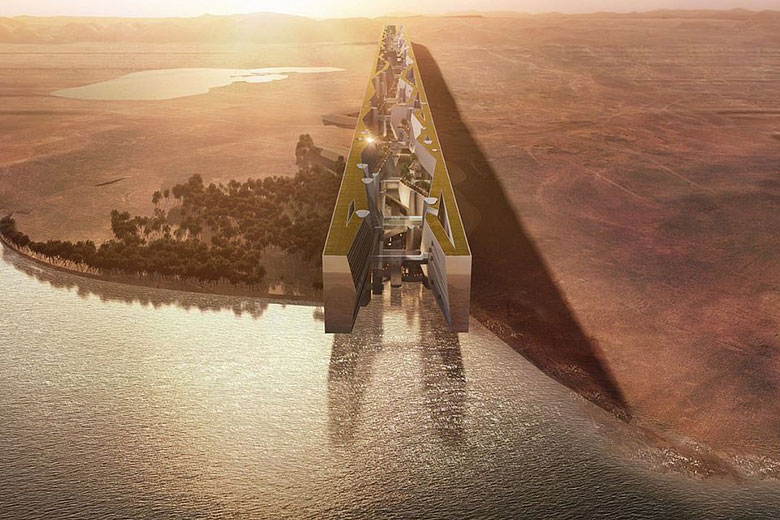 ---
Crown Prince Mohammed bin Salman said in January 2021 that he wanted The Mirror Line to be greater than the Egyptian Pyramids
---
The futuristic structures have a silver shine and an elaborate interior, with stairwells, greenery, and homes to form a linear community. It will also feature a marina for boats underneath the arch of the buildings. Moreover, millions will be fed through vertical farming integrated into the walls of the gleaming buildings, and residents will reportedly pay a subscription for three meals per day.
---
When completed, the $1 trillion mega-building will hold up to 5 million people, who will be able to commute end-to-end in 20 minutes
---
NEOM continues to introduce projects that have never even been considered before, revolutionising the way people live, work and relax.