The Red Sea Development Company (TRSDC), the developer behind the world's most ambitious tourism project, has achieved ISO22301:2019 Security and Resilience – Business Continuity Management Systems certification, awarded by the prestigious British Standards Institution (BSI).
This internationally renowned certification recognizes the achievement of TRSDC in guiding the development of its flagship project, The Red Sea, despite significant challenges presented by the coronavirus pandemic, and reflects TRSDC's commitment to meeting and exceeding existing international standards.
It also demonstrates TRSDC's ambition to set new responsible business benchmarks across its developments, with the certification achieved with zero non-conformities and zero comments from the BSI.
"Our top priority at TRSDC is our people. This means we must always endeavor to make our organization not only one of the most sustainable tourism developers in the world but the most resilient, which is able to protect our community from any risk or economic shock," said John Pagano, CEO of TRSDC.
"Despite impacted supply chains for construction materials and significant disruption of public health and global tourism systems, we did everything in our power to protect the health and wellbeing of our employees, while maintaining progress on site. We are honored to see this work recognized by the British Standards Institution."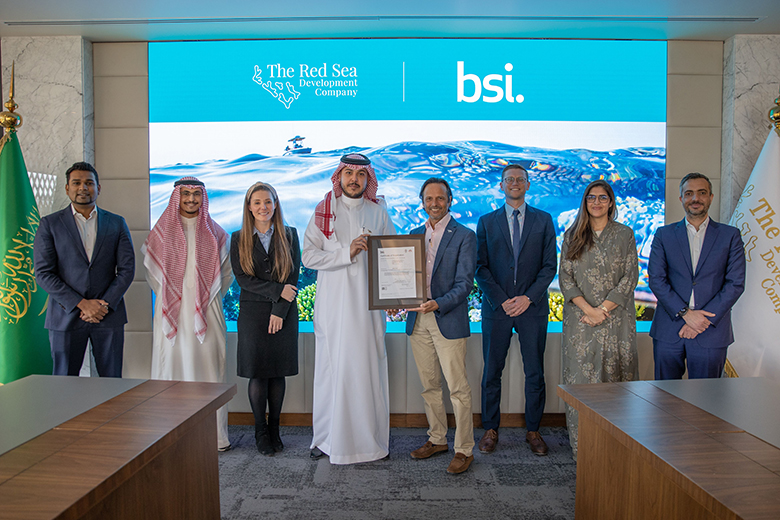 ---
Award of the ISO22301:2019 certification acknowledges pandemic successes in the development of ambitious tourism projects
---
TRSDC built a full Business Continuity Management System and developed this existing framework to address the challenges posed by the pandemic. This included creating temporary accommodation for social-distancing employees, along with temperature checks and screening programs for site-based personnel.
A program of over 45,000 online meetings and 15 live webinars was delivered to ensure employees were fully updated on all testing, quarantine and border requirements, helping workers to travel from the project site and maintain contact with their friends and family.
Abdullah Alabdulwahid, General Manager of the BSI Group in Saudi Arabia said: "On behalf of BSI, I offer my congratulations to TRSDC on demonstrating that it continues working according to recognized best practices. Business Continuity Management (BCM) has become a vital discipline, bringing benefits that go far beyond helping organizations recover from unexpected disruptions. A robust BCM process offers advantages such as process improvements to business expansion and brand enhancement."
---
A program of over 45,000 online meetings and 15 live webinars was delivered to ensure employees were fully updated on all testing, quarantine and border requirements
---
As a result of TRSDC's holistic approach, over 8,000 employees and contractors were able to continue making significant progress in developing its flagship project during the pandemic. This includes the signing of more than 800 contracts for The Red Sea Project alone, worth more than SAR 20 billion ($5.33 billion) to date.
The approach also ensured the long-term wellbeing of employees in the face of coronavirus, with herd immunity enabled for between 95% and 98% of the TRSDC community.
The Business Resilience Gold Management Committee, which is comprised of TRSDC's senior Executive Management team, helped spearhead the developer's changes and oversaw compliance with international standards for business resilience. TRSDC will retain this Command and Control structure to effectively deal with future crisis responses.
The Red Sea Project has already passed significant milestones and work is on track to welcome the first guests by the end of 2022. Phase one, which includes 16 hotels in total, will complete in 2023.
Upon completion in 2030, The Red Sea Project will comprise 50 resorts, offering up to 8,000 hotel rooms and more than 1,000 residential properties across 22 islands and six inland sites. The destination will also include an international airport, luxury marinas, golf courses, entertainment, and leisure facilities.