The Al Kharj Chamber of Commerce has signed a Memorandum of Understanding with VFS Global for the latter to provide visa services for its members on its premises.
Leveraging its doorstep visa service, VFS Global will visit the Chamber's headquarters in Al Kharj upon request to provide end-to-end visa services to members, bringing the process to them, so they do not have to visit a Visa Application Centre. VFS Global's range of optional services such as form filling assistance, travel insurance, document scanning and uploading (for UK visa applications), among others, will also be available to members.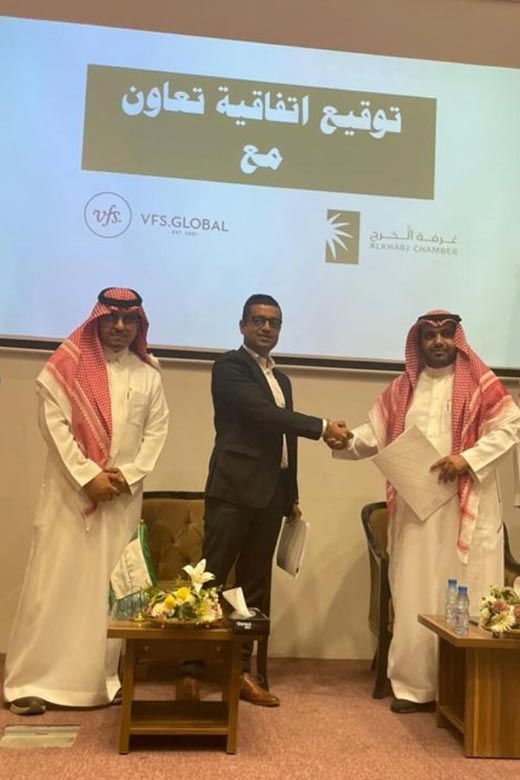 "This partnership with VFS Global is an accelerant to positioning Al Kharj as an epi-centre for trade, industry and businesses by bringing visa services closer and at further convenience to our members. We look forward to working closely with VFS Global in the coming months," said Mr Amash bin Al-Dafin, President, Al Kharj Chamber of Commerce.
---
VFS Global provides visa services for 30 countries for the citizens and residents of the Kingdom of Saudi Arabia through a network of 85 Visa Application Centers
---
Vinay Malhotra, Regional Group Chief Operating Officer – South Asia, Middle East & North Africa and Americas, VFS Global said, "Al Kharj is the fourth Chamber of Commerce VFS Global has partnered with in the past one year, and we are proud to be supporting the Kingdom's 2030 vision through our services. We are excited about this new association and look forward to providing the Chamber's members with our best-in-class services."