When we meet someone in person, we ask questions to learn more about them. We pay attention to their stories, thoughts, opinions, and convictions. We strive to learn more about them and tell our own tale. The ultimate goal is to make a connection. The rules of business are the same. Building a brand or marketing a product requires you to tell your story. It aids in the shaping of people's perceptions of you and allows customers to begin to form a bond with you and your organisation.
That is why VMI Studio, which produces stunning visual imagery, animations and virtual reality experiences, is pushing the boundaries of creativity in a broad array of sectors, from property development through to the art world and entertainment – creating stories that attract, enthral and engage viewers.
Working with groundbreaking tech, VMI Studio likes to do things differently, too, and isn't afraid to try new ideas. And because Saudi Arabia has such an amazing vision of the future, it is looking to quickly develop its presence in the Kingdom, taking on ever more challenging projects and opening a new office in Riyadh. So if you're ready to collaborate with other great minds and have your voice heard, read on!
Going Back in Time
Led by co-founder and director Nicholas Byrne, VMI Studio is a mission-driven, culture-first company, where its people are its number one resource. Indeed, this is a business whose success is not only measured by economic returns, but by executing brilliant, successful projects that drive their clients' businesses forward, and that's what the VMI Studio team really care about.
VMI Studio differentiates itself in a number of important ways, with Nicholas explaining: "In our industry, we have, for want of a better term, more straightforward firms that are slightly more focused on architecture and engineering. We're more experientially focused, so we do a lot of virtual reality, augmented reality and installations, quite a few of the latter in art galleries and museums."
---
There is no 'cookie-cutter' and nothing is off the table
---
For instance, VMI Studio worked on an exhibition at Somerset House in London with a renowned artist by the name of Matt Collishaw. When in an art gallery, of course, visitors can lose themselves in the Parisian nightlife of Henri Toulouse-Lautrac or the mesmersing polka dots of Yayoi Kusama, all within the confines of four walls. However, a new dimension is emerging, one that expands physical space into an experimental virtual environment, and in the case of Somerset House recreate William Henry Fox Talbot's first photography show, which took place in Birmingham in 1839. Visitors were able to put on their VR goggles and go into a virtual room where they could observe the artwork on the walls, as well as the glass display cabinets and equipment, exactly as they would have been presented approximately 180 years ago.
"We were visualising a scene from the 19th century, and we ended up having 60,000 visitors attend; that's the sort of traction you can gain from building more experiential installations around a subject," Nicholas said.
This project illustrates perfectly VMI Studio's point-of-difference: it is a creatively driven firm where each project is non-diagnostic, with the team looking closely at each task and deciding upon the best approach and technology to apply to it. There is no 'cookie-cutter' and nothing is off the table.
---
Around 70% of its work is for high-end property developers, and the remainder for the arts and entertainment sectors
---
Looking into the Future
Nicholas began his working life studying the past as an archaeologist, working on many sites in Europe and the Caribbean, including Ostia Antica, an archaeological site and harbour of ancient Rome, and St Kitts and Nevis sugar plantations. "I took an interest in the 3D reconstruction of those sites, and myself and my professor at the time carved out a bit of a speciality reconstructing scenes from the past."
Soon, though, Nicholas very much had his eye on the future, opening up an office in Little Russell Street, opposite the British Museum, in London, leading to work with some of the biggest names in the world, including Foster + Partners. Nicholas explains: "Today, we're visualising the future and crafting captivating storylines for new developments all over the world, working with some amazing clients and providing a service that we believe is simply hard to beat in terms of creativity and execution."
Those storylines have been seen in locations as diverse as Saudi Arabia, the UAE, the UK, the US, Australia and Europe, with around 70% of its work being for high-end property developers, and the remainder for the arts and entertainment sectors.
"The typical kind of project we work on is high-end residential in somewhere like Manhattan," says Nicholas. "Just recently, we worked on visualising a major tower in Times Square, and the intention was to make the largest experiential retail building in the world. There are many large players looking to move into that building, and our job was to visualise what it would be like to be inside it, to visualise all of the activations and how the retail floor would appear, what the hotel would look like, all the technology that would be applied. It was bringing to life something that didn't exist, and also elevating that scheme to make it more impressive than other projects in Times Square."
On the artistic front, VMI Studio worked on the 'Illuminated River' project in London, which transforms the capital at night, bathing the bridges that cross the River Thames in environmentally-friendly LED light. "We worked with an artist by the name of Leo Villareal to create this permanent art installation – the longest geographical art installation in Europe," Nicholas explains. "We were tasked with visualising this project using computer graphics, film, VR applications, and worked really closely with the artist to show how this amazing artwork would look. It was an astonishing project to work on because we had to visualise the Thames at night, create the whole river in a 3D model, get the animation working, the lighting accurate. It was a very technical, complex project, but also very artistically driven."
It is little surprise, therefore, to discover that VMI Studio is very busy at present, with most of its projects being in super-prime residential, as well as a number of large retail projects in Manhattan, including a development on one of the world's most prestigious streets, Fifth Avenue.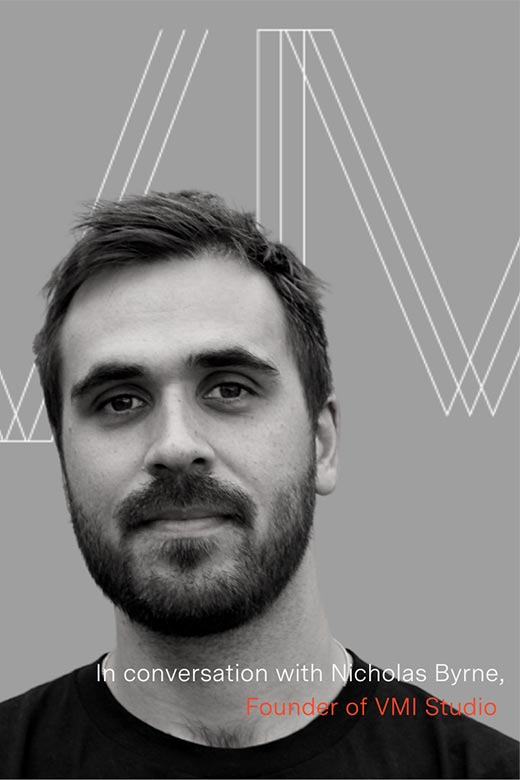 ---
"Working with us is a completely different experience from working with other firms"
---
A Unique Culture
VMI Studio's culture is very creative, but at the same time, it is extremely disciplined. "When we receive a brief, we spend several hours just sketching out ideas and hypothesising how we can approach it. We have a questionnaire that we ask ourselves: Is the client, for example, really assessing this opportunity; are they assessing what they can do with it? Then we go back to the client, usually with hand-drawn illustrations, illustrating what we think the project journey can be like. We endeavour to understand the project from an architect's viewpoint, the client's viewpoint, and the end user's standpoint. We consider all stakeholders," Nicholas says.
"I'm very proud of the team we have built and I feel that our approach to projects is quite unique, especially in the earlier phases, "he continues. "We never just say we'll do great animation and Computer Generated Images (CGI); that would make life rather dull. We always look to reinvent the wheel in each project. I think what I'm most proud of is our approach to projects, the creativity, and a lot of the technological IP we've built in-house. Working with us is a completely different experience from working with other firms. You're going to get something more creative, a little bit left of field, but still maintaining a high degree of quality."
---
"The Saudis seem to be a little more open to creating something quite powerful and a bit disruptor"
---
Going Beyond the Norm
VMI Studio has already successfully carried out a few projects in Saudi Arabia, and it's already beginning to feel like home in a creative sense. "Effectively, our work is visualising the future, and the 2030 Vision really piqued our interest," says Nicholas. "We visualise the future, and in some instances visualise the past. So, I think we are very much on the same page as Saudi Arabia, a country that is setting entirely new standards in large high-end projects and sustainability."
Two of the projects undertaken by VMI Studio in Saudi Arabia have been quite groundbreaking: the first sees people don VR headsets and fly around one of the Kingdom's giga-projects, while the second is a large real-time installation that features the apartment of the future. Visitors can walk through the space and turn on a holographic AV system, allowing them to start to buy different assets and even design their apartment digitally first, own the 3D model rights, and then get the project created.
---
Visualising The 2030 Vision
---
This is one of the primary benefits of working with such things as CGI, film and animation – it's possible to market and sell off-plan before construction has begun. But whether the client is a property developer or an art gallery, VMI Studio is visualising something that does not yet exist. Moreover, all of the images it produces are hyper-real, you really can't tell the difference between them and the real thing.
"I do feel our approach is very suited to Saudi Arabia – the Saudis seem to be a little more open to creating something quite powerful and a bit disruptor. There's the opportunity to do stuff a little bit more unusual. That's why we will be opening up an office in the Kingdom in the next couple of months, building up a team of project managers that will allow us to utilise our phenomenal technology to visualise the past, present and future in many different ways for great clients that are looking to go beyond the norm. It just feels like the right place at the right team, with Vision 2030, alongside the tremendous foresight and entrepreneurial spirit in the Kingdom, dictating that this is the place to be," Nicholas concludes